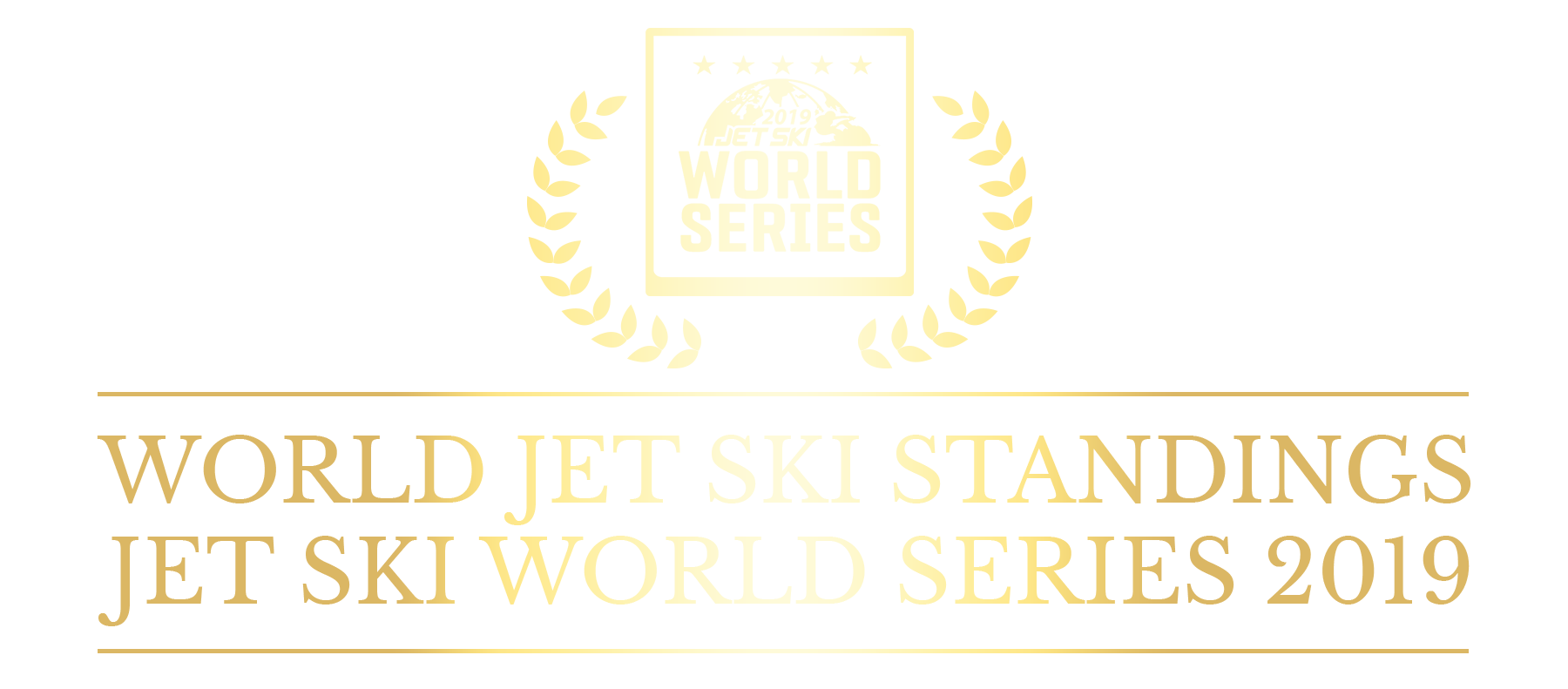 Let's celebrate the true champion of the world
The three round World Series officially began at the European Championship at Lake Eau d'Heure in Belgium, before moving to the Jet Ski World Finals at Lake Havasu City, USA and finally finishing at the Thai Airways International Jet Ski World Cup, Pattaya City, Thailand.
We would like to congratulate to all champions. You are the true Jet Ski champion of the world. See you next year.
No.

Category
ROUND 1
EUROPE
(BELGIUM)

ROUND 2
AMERICA
(USA)

ROUND 3

(Final)


ASIA
(THAILAND)




Champion
1



PRO SKI
GRANDPRIX**


(Results)

#98


Quinten
Bossche

#202


Kole
Cramer

#72


Jeremy
Poret

#72


Jeremy
Poret
2



PRO SPORT GP


(Results)

#17


Christian Miller

#T52


Supak
Settura

#1


Dustin
Farthing

#J76


Johichiroh


Katano
3



PRO RUNABOUT
1100 OPEN
(Results)

#76


Julian
Dux

#T52


Supak
Settura

#T79


Permphon


Teerapatpanich

#T79


Permphon


Teerapatpanich
4



PRO
RUNABOUT GP


(Results)

#66


Mohammed


Burbayea

#11




Waleed

Al




Sharshani

#7




Marcus




Jorgensen

#66




Mohammed

Burbayea
5



PRO
FREESTYLE


(Results)

#-


Lee
Stone

#-


Lee
Stone

#-


Taiji
Yamamoto

#-


Lee
Stone
6



PRO-AM
ENDURANCE
OPEN

(Results)

#8


Pastorello
Jean-Bruno

#3


Aero


Aswar

#8


Pastorello
Jean-Bruno

#8


Pastorello

Jean-Bruno
7



PRO-AM SKI
STOCK


(Results)

#31


Abdulla

Alhammadi

#44


Raphael
Maurin

#88


Benjamin
Scharff

#98


Abdulla

Alhammadi
8



PRO-AM SKI SUPERSTOCK


(Results)

#16


Phil
Segers

#16


Phil
Segers

#3


Ou Moeut
Saly

#16


Phil
Segers
9



PRO-AM W/M
SKI LIMITED
(Results)

#8


Lucy
Gadsby

#44


Lucy
Gadsby

#8


Lucy
Gadsby

#44


Lucy
Gadsby
10


PRO-AM R/A
STOCK


(Results)

#111


Simon Belcher

#502


Brian
Baldwin

#110


Troy
Snyder

#110


Troy
Snyder
11


EXPERT
VETERANS R/A LIMITED

(Results)

#66


Reichardt
Hansi

#444


Zsolt
Cseke

#G7


Liu Yi
Cheng

#444


Zsolt
Cseke
12


EXPERT SKI
LIMITED


(Results)

#140


Wilfried
Gurnot

#78


Salem
Almutawa

#9


Abdulla


Alhammadi

#76




Sultan Eisa




Alhammadi
13


EXPERT
RUNABOUT
LIMITED

(Results)

#444


Zsolt
Cseke

#110


Troy
Snyder

#G7


Liu Yi
Cheng

#444
Zsolt
Cseke
14


NOVICE SKI
STOCK


(Results)

#77


Mattias Siimann

#888


Ryder
Wildeboer

#6


Tanawin


Molee

#888


Ryder

Wildeboer
15


NOVICE
RUNABOUT
STOCK

(Results)

#13


Manea
Almarzooqi

#7


Umberto Brito

#T95


Thanutchai

Pimcharoen

#717
Arvydas


Pecatauskas
16


JUNIOR SKI
13-15 STOCK


(Results)

#121


Severi
Salonen

#495


Seth
Fuhrman

#514


Suparuek


Dansathaporn

#121


Severi
Salonen